The Full Oystercatcher Trail - 5 Days, 4 Nights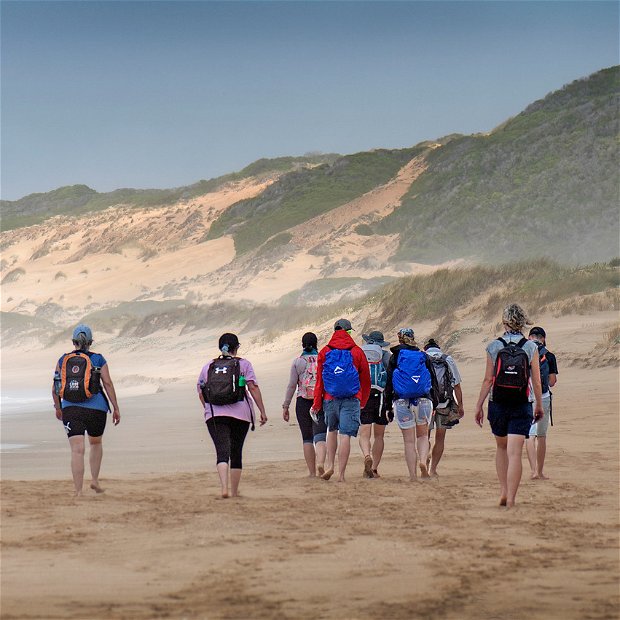 Our famous Full Oystercatcher Trail Experience; it's a Love Affair with Nature!
5-day, 4-night guided coastal walk
Rates include a local expert guide, beautifully equipped coastal accommodation & all meals
It is all about great food, quality accommodation & expert information en-route.
You'll walk carrying just your daypack - but you'll leave with more than a pack-full of memories!
Should you want a private group or you are less than 6 persons - please let us work out a custom rate for you.
Our prices are influenced by continuing increase in fuel and electricity prices, as well taken into account rate changes of accommodation and catering partners, thus subject to change without prior notice.
Accommodation is provided in partnership with local hand-picked private establishments and properties, with individual properties being subject to availability.
Optional extra:
Drinks will be charged to your personal account 
Should you wish to have any meals other than covered / catered for in your quote.
Additional Activities
Day 1:
Dinner and a good rest before the walking begins
14:00:  Book in  – location pin will be provided.  Accommodation all four nights in the same Accommodation
Meet & Greet
Meet your Trail Representative as well as your expert guide - Chris Carr
Guide will discuss the trail days, clothes to wear, tides and what to expect during this session.  He will answer any questions you might have gladly.
19h00: Dinner
All meals are served and catered for by our local chefs who take great pride in their catering.   Our guides and catering personnel are the crown jewels of our experience!
Day 2: 19km
Gouritz River Mouth - Fransmanshoek - Boggoms Bay
07h00: Breakfast
08h00: Transfer from Boggomsbaai to Gouritz River Mouth
Boat crossing across Gouritz River
Hike from Gouritz River Mouth to Fransmanshoek
Enjoy lunch at Fransmanshoek
On the way to Fransmanshoek start meandering to the dunes, passing "Fonteintjies" a historical watering place frequented by ships passing the shores of Southern Africa to and from the Far East.
Arrive at Fransmanshoek, a small nature reserve, featuring striking red coloured, craggy rocks, abundant bird life and beautiful veld flowers. Historically the ship La Fortuné was wrecked here en-route from Mauritius to France with 410 men on board in 1763.
Continue hike to Boggomsbaai
19h00: Dinner
Overnight at your accommodation
Day 3: 14km
Boggoms Bay - Dana Bay
08h00: Breakfast
Start your hike to Dana Bay.
This day is a lovely meditative beach walk, with the movement and sounds of the ocean as a constant.
Plenty of opportunity to truly explore marine life as you pass Springer Bay and Nautilus Bay conservancies.
Lunch packs enroute
Transfer from Dana Bay to Boggomsbaai.
Afternoon at Leisure.
Dinner.
Overnight at your accommodation.
Little Boggoms Bay, or Boggomsbaai as it is known, is one of several small seaside villages that fall within the Fransmanshoek Conservancy, on the Garden Route.  The residents of Boggomsbaai take their environment seriously. They protect indigenous plants and trees, and the little buck, hares, owls, tortoises and francolin that make the town their home. If you happen to be here between July and November, you can spot the southern right whale just offshore.
Day 4: 14km
Dana Bay - Mossel Bay via St. Blaize
08h00: Breakfast
Receive Water & Lunch packs.
Transfer to Dana Bay Hiking point/ Pinnacle Point
Start your hike to Mossel Bay St Blaize
Lunch packs enroute
Afternoon at Leisure
Dinner
Overnight at your accommodation
The St. Blaize Trail follows a 30 to 50 metre contour along the cliffs from Dana Bay and ending at Cape St. Blaize Lighthouse. In the middle of the trail, you'll find the Pinnacle Point Golf Course.
The trail offers dramatic sea views, excellent whale and dolphin watching, and has some trail dassies for company.  This is an excellent day to see bird life, reptiles and wonderful flora
Day 5: 
Rates
01 Jul 2023 - 31 Aug 2023
R8450.00
Per Person Sharing

Including VAT

01 Sep 2023 - 30 Nov 2024
R9100.00
Per Person Sharing

Including VAT