Professionally guided walking tours along the beaches, dunes, cliffs and fynbos on the rugged South Cape coastline near Mossel Bay on the Garden Route.
One of the first to introduce the Slackpacking concept - a World-renowned trail, described as one of the top 50 hikes worldwide by the likes of the BBC and Getaway, also featured in major media brands and productions.
The World-Renowned Oystercatcher Trail: It's a love affair with nature.
Hike the largely undeveloped South Cape(Garden Route) coastline between Mossel Bay and Gourikwa Private Nature Reserve, crossing the spectacular Gouritz River along the way.
The Mossel Bay area features the Big 5 of the ocean being a World-class biodiversity hotspot. During the mild cooler  months, Whales come in to give birth in the quiet protected bays. Dazzling us with their displays of breaching and lob-tailing. 
The combination of bird and marine life as well as a great variety of Fynbos species, makes it a nature enthusiast paradise!
Leave your luggage at your accommodation, so you only need carry a small day-pack on your walk. Making hiking a real slackpacking pleasure.
Overnight accommodation in well appointed coastal establishments, which are confirmed according to group size and hiking duration are included in our full board trails or a self-catering option is available on request
Explore Our trails
4 nights, 5 days. Guided walk from Dana Bay to the Gourits River Mouth. Includes all meals & beautiful accommodation.
More info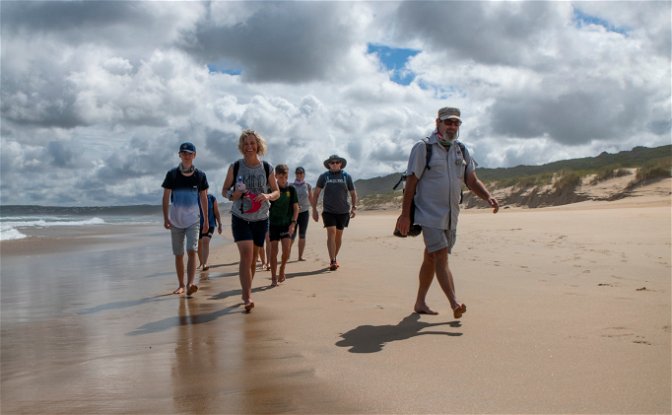 Happy Hiker: 2 nights, 3 days
Limited on travel time? Our Happy Hiker is perfect for those hikers who want to experience the Oystercatcher Trail but don't have a lot of time on their hands. Hike some the best sections of the Oystercatcher Trail with one of our local guides. Includes 2 hiking days, accommodation and all your meals.
Perfect for time-bound hikers or for locals to enjoy a day out in nature. Learn about the plant -, marine - and birdlife as well as the rich history and archaeology of this magnificent trail. Experience the rugged coastline like never before while enjoying amazing scenery throughout the hike.
MORE INFO
Learn about plant -, marine - and birdlife as well as the rich history and archaeology of the Fransmanshoek Conservancy.
MORE INFO
Guest Reviews
Wonderful experience for body, psyche and soul

It was a wonderful experience for body, psyche and soul. Being so close to the sea, on the beach, over the rocks, amongst the fynbos. The weather was excellent, our guide Chris very informative, respectful and kind. The accommodation excellent, the breakfasts / lunches / suppers very tasteful. The hosts were friendly and checked in regularly. I reflect back on the experience daily. We are already planning a next... Read this review

franscilliers

Pretoria

I wish I could do this walk every month

I would love to do this every month - it was spectacular. The accommodation was lovely, and it showcased some of the best coastal scenery in South Africa.

Cobus P

Unknown

Great coastal hike

We are a group of 12 ladies who do a yearly hike over woman's day in August and the Oystercatcher trail did not disappoint this year. Mia, Willem and our guide Georgia went out of their way for us; meeting us with champagne on the boat at Gouritzriver, adjusting the complete 4 day hike into 3 days and arranging a lovely warm lunch on day 2. Such attention to... Read this review

Liezet B

Stellenbosch

We just had the most awesome 3 days. The hike is a spiritual reawakening. It's challenging but doable. Taylor, our guide was amazing. The scenery is spectacular. Our accommodation was fantastic too. Highly recommend. Thanks Mia and Willem.

Martine Schaffer

South Africa

What an awesome experience, Chris is an extremely knowledgeable guide - what an outstanding outdoor adventure. Accommodation and food superb - all wonderful people deserve a huge shoutout.

Glenham Griffiths

South Africa